A historical site
The cemetery's current name comes from that of King Louis XIV's confessor, the Jesuit priest François de la Chaise d'Aix. For more than a century, from 1626 to 1762, the Jesuits of Rue Saint-Antoine owned a property on the doorstep of Paris, with a park surrounding an elegant residence overlooking Charonne hill. In 1804, the entire estate was sold to the City of Paris, which turned it into the capital's largest cemetery. Alexandre Théodore Brongniart (1739-1813), architect of the Palais Brongniart, redesigned the French-style garden into a new type of large cemetery that closely intertwined the features of an English-style park and a place of meditation.
When Père-Lachaise opened its doors on the 21st of May 1804, Parisians were then only familiar with small cemeteries within the city and were reluctant to have their dead so far away. In 1817, the closing of the Museum of French Monuments provided an opportunity to transfer famous tombs, such as those of La Fontaine and Molière (25th division) or those of Héloïse and Abélard (7th division), to Père-Lachaise. The examples of great men (Marshals of the Empire, scholars and poets) now buried there combined with considerable population growth during the period provided momentum for Père-Lachaise. By the 1830's, there were 33,000 tombs and the cemetery had to be expanded. Between 1824 and 1850, six successive extensions expanded it to its current size (almost 44 hectares). The cemetery now has a total of 70,000 plots. More than 600,000 bodies are laid to rest there, watched over by a legion of trees.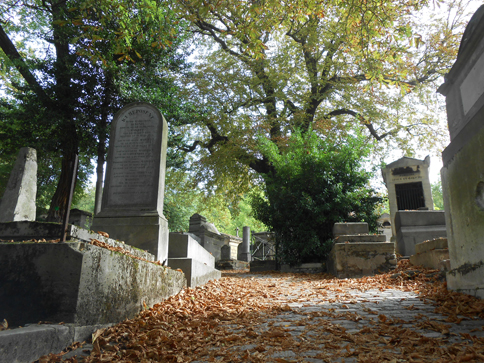 This first garden-cemetery is divided into two parts. The oldest part is kept in its original English-style garden layout, with vast winding avenues connecting to narrow alleys winding up the slope. The second part, which is more recent and located in the northeast of the cemetery, presents more stone-based and geometrical features.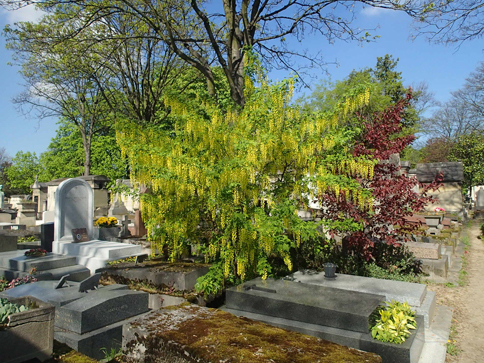 A large green space
Père-Lachaise is a highly frequented tourist attraction, drawing more than 3 million visitors each year.
This huge cemetery, the most famous in France, is also one of the French capital's most beautiful green spaces and a reservoir of biodiversity, completely enclosed by a large stone wall. The main entrance, located on Boulevard de Ménilmontant is marked with a huge gate, which was erected in 1822 by Étienne-Hippolyte Godde (1781-1869), architect of the City of Paris, who also built the Chapelle de l'Est, located where the house of Père de la Chaise once stood (55th division). The gate represents a symbolic boundary between life and death, as well as a clear division between the hustle and bustle of the city and the calm of this listed site.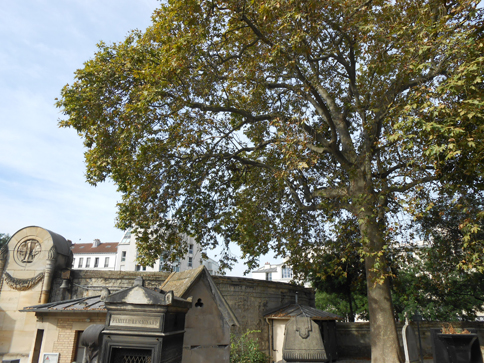 To echo this large gate, as soon as you enter, to the left, on the corner behind the reception building, stands a monumental oriental plane (Platanus orientalis). This remarkable tree was planted in 1890. It now measures 25 metres in height and 3.55 metres in circumference. With its spreading branches and long straight trunk, which is estimated to weigh 10 tons, it is one of the most beautiful individuals in the cemetery.
Further along, the alley is shaded with a line of small-leaved limes (Tilia cordata) and silver limes (Tilia tomentosa). Silver lime, which originates from the shores of the Black Sea and the Caucasus, which was chosen above all for its resistance to polluted urban atmospheres, has revealed a narcotic, and even delirious effect on bees and bumblebees. This is due to the presence of a certain type of sugar in its nectar that is indigestible for pollinators. In order to protect bees and bumblebees, it is preferable to plant indigenous species such as the small-leaved lime and the large-leaved lime (Tilia platyphyllos). The tree of heaven (Ailanthus altissima) near Avenue Thirion is a young, spontaneously growing individual, measuring 7 metres in height and 40 cm in circumference. With its winged seeds, trees of heaven spread and grow in large numbers between tombs. This is currently considered to be an invasive exotic species.
Make your way back to the main avenue.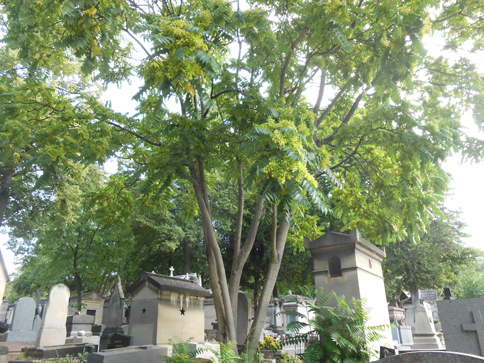 Shelters for all seasons
On this cobbled alley, planted with holm oaks (Quercus ilex), you may hear the raucous alarm calls of the Eurasian jay (Garrulus glandarius). A talented mimic, this bird can imitate the sounds of other birds and even cats or creaking doors. In addition to raiding nests, jays also eat insects, worms and fruits. They are particularly fond of acorns and can carry up to four in a pouch below their beak. Hidden in caches in preparation for the winter, forgotten acorns germinate in spring, helping with the spread of oak trees.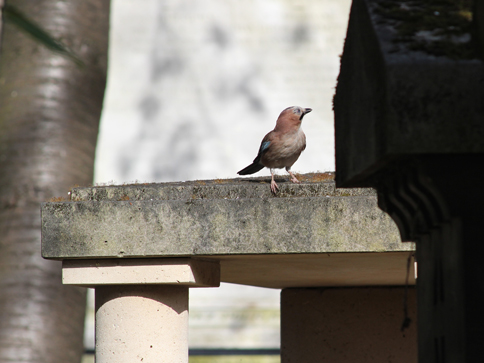 The line of holm oaks, which are evergreens, like the oriental thuja (Platycladus orientalis), provides wild winged fauna - jays, magpies and tits - with hiding places in all seasons, and particularly in winter when most trees are barren of leaves.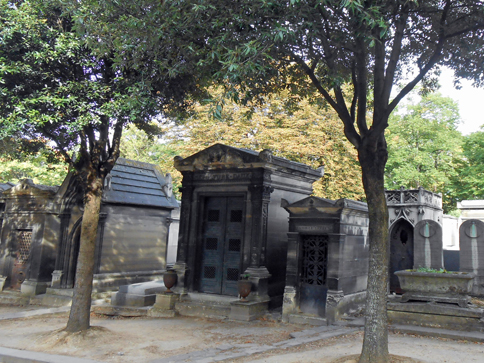 The holm oak, a Mediterranean species, which came to replace dead thujas, has been widely planted in Paris in recent years as it is well suited to climate change. The trees planted in Paris form a varied range of species, which are resistant to water stress in summer and harsh winters, including the Judas tree, hackberry, Syrian ash and Indian lilac, as well as indigenous species, such as the sycamore, Norway maple, common ash, small-leaved lime and large-leaved lime.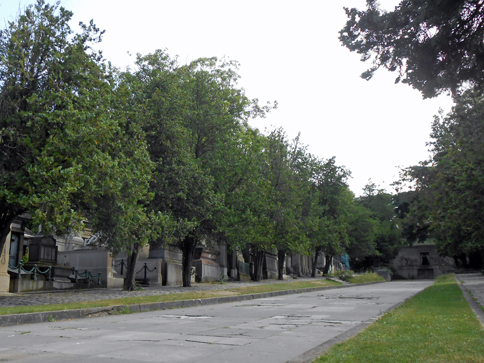 Continue along the alley until you reach the war memorial.
More than a century old, a cedar of Lebanon (Cedrus libani) stands majestically to the right of the war memorial sculpted by Albert Bartholomé (1848-1928), who was buried opposite his major work, in a tomb with effigy. Inaugurated in 1899, the war memorial is dedicated to "the unknown, the dead of the mass grave and those whose body was not found." Like the pediment of a hypogeum, the monument has formed the façade of the municipal ossuary, where bones from disused plots in Parisian cemeteries are kept since 1953. Paris' new ossuary is now located at Thiais cemetery. There are 20 cemeteries in Paris: 14 within the city (including the cemeteries of Montmartre and Montparnasse) and 6 outside the city, managed by the City of Paris (Thiais, Ivry, Bagneux, Pantin, Saint-Ouen and La Chapelle). This heritage represents a total area of 422 hectares, including 73 hectares of green space. It is an asset for wild fauna and flora, which find refuge there from the bustle of the city.
Planted in 1870, the cedar of Lebanon is remarkable due to its height of 20 metres and the fact that it is guyed (supported by cables) to compensate for the fragility of its forked trunk.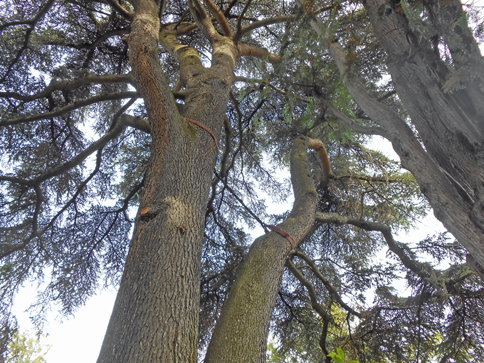 This procedure causes no trauma to the tree and is an alternative to severe pruning. Its fruits - 10 cm upright cones, yellowish green and then crimson when mature - remain on the tree for three years. Leftovers and branches stripped of their buds at the foot of the tree reveal the presence of the red squirrel (Sciurus vulgaris).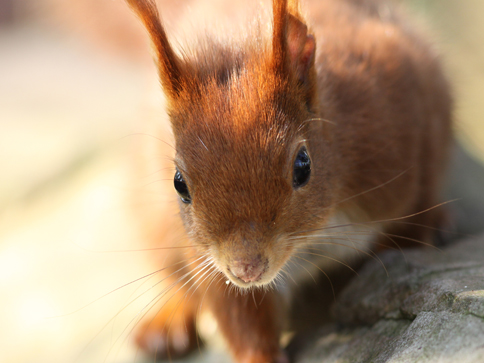 With its presence, this animal ambassador of Paris' wooded network confirms the ecological quality of the environment and the benefit of preserving old trees. This resinous tree offers food and shelter to many animals, such as the goldcrest (Regulus regulus), which builds its hammock-shaped nest in the highest branches of the conifer. Tiny (weighing 5 to 7 grams and measuring 9 cm) and plump, the goldcrest has a highly characteristic bright yellow patch on its head, bordered with black, and is one of the smallest birds in Europe.
Take the yew-lined stairs to the left of the war memorial.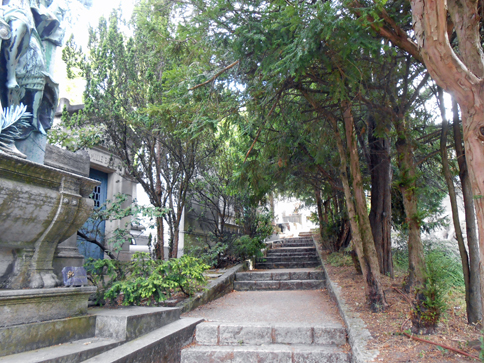 The yew (Taxus baccata) is an evergreen tree that abounds in cemeteries. This species has very hard, compact, homogenous and rot-resistant wood and grows very slowly, which means that it can live for thousands of years. It is therefore a symbol of immortality, a guardian of the deceased.
Go to Avenue Neigre, the first alley on the left.
Following stage