Alternative consumption
Children at this school are served one vegetarian meal in the canteen every week. This also applies to other school canteens in the 19th arrondissement and Paris as a whole.
A diet with more vegetables and less animal products is an effective means of meeting the body's protein requirements while reducing greenhouse gas emissions and preserving biodiversity and water resources. Vegetable proteins are contained in legumes, such as beans, broad beans, lentils, split peas and chickpeas.
Meat production accounts for half of agricultural greenhouse gas emissions in France. The production of one kilogram of beef generates 18 kg of CO2 equivalent, compared with 0.2 kg of CO2 equivalent for one kilogram of legumes. Introducing a vegetarian meal at least once a week in school canteens is a globally attractive solution that also improves the quality of food served.
More generally, the Sustainable Food Supply Action plan, which applies to all municipal and departmental canteens in Paris, from nurseries to retirement homes, aims to achieve a level of 50% sustainable food in all of these canteens by 2020. 30 million meals are served in these canteens every year. Already more than 33% of food served in school canteens, and 50% in nurseries, is "sustainable" (organic, Label Rouge or MSC certification).
The municipal authority also promotes the use of food produced by organic farming and supports local agricultural producers.
Take Allée Darius Milhaud along La Villette cemetery.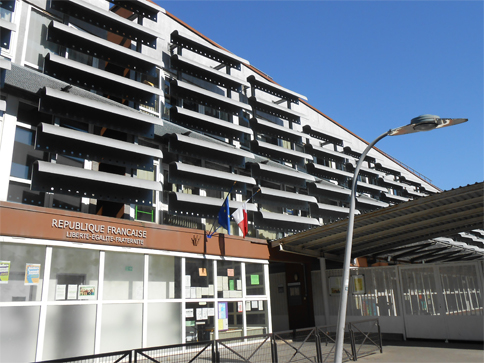 A vertical hotel for birds
On a wall of the nursery school magnificent wisteria, an immense and rambling climber, offers certain birds shelter for nesting, such as the blackbird (Turdus merula). The female builds a cup-shaped nest with twigs, roots, grass and moss, plastered with mud or muddy leaves. During the nesting period the male will bear the presence of no other individuals of the same species, with the exception of his partner, and defend his territory with threat displays. The male makes a short run toward the intruder with his head first raised and then bowed as he dips his tail. The blackbird spends his entire life on his territory, which can cover 1000 to 3000 m2 in urban areas.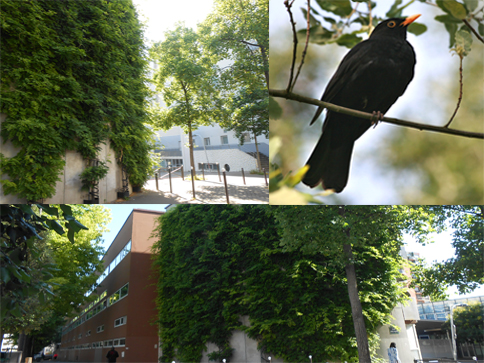 Street trees
Allée Darius Milhaud is built on the former railway siding that linked the Petite Ceinture railway line in the west to the La Vilette abattoir in the east. As a nod to the past, the mosaic on the cemetery wall depicts a train.
The alley is shaded by tulip trees (Liriodendron tulipifera). This tree is native to the south and east of the United States. It has very distinctive leaves, with four pointed lobes and a truncated, indented tip. The tulip-shaped flowers, which are greenish yellow with an orange base, appear only when the tree is aged between 10 and 15 years. They produce nectar which makes them highly attractive for flower-visiting insects, such as bee flies, butterflies, hoverflies and bees. In autumn, its scaly cone-shaped fruits contain small winged seeds, which are much appreciated by goldfinches (Carduelis carduelis). Weighing only 18 grams, they are able to perch on the thin stems of sow thistles and groundsel growing at the feet of these avenue trees in order to eat the small seeds during the summer. Poppy, wall barley and camomile seeds are naturally sown by the wind at the foot of these tulip trees.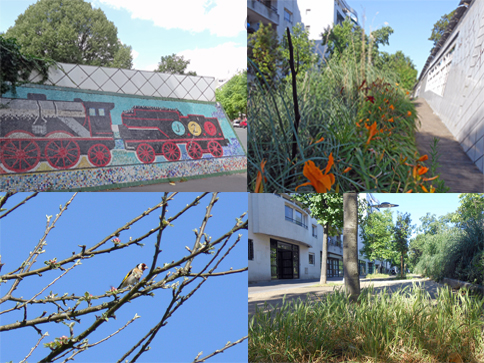 The raised side path, which brings walkers almost up to the height of the tree crowns, offers a plunging and original view of the cemetery. This walkway is lined with various plants, as well as shrubs, trees and tall grasses, including the Scots pine, common hazel, staghorn sumac, Judas tree, katsura tree (Cercidiphyllum japonicum), Oregon grape and climbing ivy. This trail of vegetation now forms a nature pathway, linking up Parc de la Villette with the Petite Ceinture railway line and Parc des Buttes-Chaumont, providing microhabitats and promoting the growth and movement of wild Parisian fauna and flora (including insects, birds and small mammals).
Follow the alley to the cemetery.
Following stage