The Montsouris Reservoir
This remarkable architectural structure is one of the five main drinking water reservoirs in the City of Paris (Montsouris, L'Haÿ-les-Roses, Saint-Cloud, Ménilmontant and Les Lilas) and is also one of the oldest. Built between 1869 and 1874 by engineer Eugène Belgrand in one of the highest spots in the south of Paris, it can hold more than 200,000 m³ of water and is fed by the Loing, Lunain and Voulzie springs located more than 100 km south of Paris, near Nemours and Provins.
It supplies the capital's lower water network (banks of the Seine) every day with the equivalent of 20% of the 480,000m3 of water consumed daily by Parisians.
The reservoir is above ground and is a large grassy mound surrounded by millstone walling. The vegetation helps keep the reservoir cool, while the presence of the wild plant and animal species that have been identified on the site also makes it a veritable urban reservoir of ecological potential within the Paris Green and Blue networks.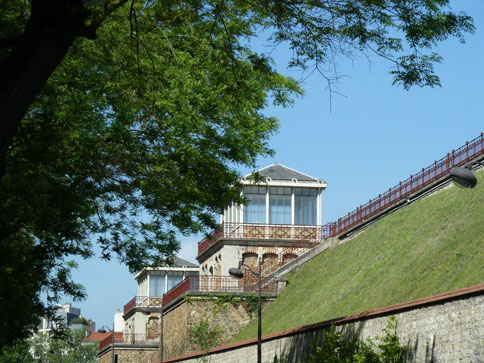 Inside the three stone pavilions decorated with blue mosaics and crowned with iron and glass roof lanterns, the water is collected and stored underground in vaulted galleries supported by 1,800 pillars, the largest of which are 7m high. The four compartments on two levels are completely independent of each other; each one has its own supply and outlet pipe in order to guarantee continued service in the event of a technical problem or maintenance.


Following stage